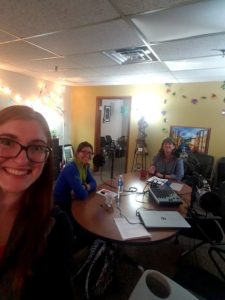 Welcome, everyone, to Books and Beverages! This week we are discussing Occupational Fiction! What is this genre? It is all about people and the jobs they have – with a story unfolding around it.
Get all the info, and our beverages, on our full information page!
We are the Central Minnesota Libraries Exchange, and we support all types of libraries. This is our book group podcast, where we discuss different genres of books each week, while we all sit in our comfy chairs and drink our beverages. And you are, of course, an important part of this book group. So if you do not already have a nice beverage please go get one, so you can join the experience.
There are no right or wrong books to read and chat about for our book group – we are just here to explore all kinds of books. We love books, and want to talk about them – and we want you to share what you are reading. All of us will take away at least a title or two that we want to read at the end of our time together!
Our guest host this week is Maria Burnham, Technology Integration Coach from the Sauk Rapids/Rice High School. She is also a member of our CMLE Board, and was our very first podcast guest on Linking Our Libraries Episode Five: Digitization Projects.
This is a huge category! Books that look at different kinds of jobs people do are always fun to read; you can either dream about a fun job you don't have, or be thankful you are not in the awful job from the book. Some of the most popular types of books in this genre are law books, medical books, or books about people in the publishing industry (not surprisingly). If you have read a John Grisham book, or enjoyed the medical anthropology of Temperance Brennen, or had a fictional romance with a baseball player, then you too have enjoyed some occupational fiction! To really be occupational fiction, the book needs to really focus on the job, and the main character who is doing that job.
What are a few jobs you might find in fiction? We link to a very long Wikipedia article with a comprehensive list; and here are a few:
Podcast: Play in new window | Download