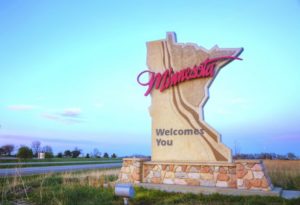 Want to listen to an episode?
You can download an app, search for "Books and Beverages Podcast from CMLE" hit subscribe, and all episodes will appear on your phone – it's so easy!

Apps we like include Pocket Casts, iTunes, and Stitcher.
Download any of these, search for "Books and Beverages Podcast" and hit Subscribe.
If it is not readily available, just enter this RSS feed: http://booksandbeverages.blubrry.net/feed/podcast/.

Or, you can stream an episode right now on your computer by going to our streaming page, by clicking here.
Check out our full information page for all the info!
Welcome, everyone, to Books and Beverages! This episode is the end of Season One for us – but never fear, we are not leaving you. Season Three of our library training podcast, Linking Our Libraries, starts next Thursday: Feb, 2. Season Two of Books and Beverages will be back Thursday May 17. (Our first episode will be Pets, with some returning special guest hosts!)
This week we are discussing Minnesota books! We will look at books set in Minnesota, and books by Minnesota authors.
Beverages
We have guests, we have our genre. We just need our beverages. Fortunately, we all came prepared with something to sip while we talk about our books. Each week we like to connect the theme of our books with our beverages. Each beverage will have a recipe or a link on our episode page, so you can try them yourself! Obviously, feel free to sip along with us with any beverage that is right for you. Just join us in celebrating books, and discussing books!
As Minnesotans, of course we have a wide variety of different beverages from all the cultures that make up our great state! But this week we are focused on sharing some local beers. It's cold and dark outside, and a lot of us sip on local beers to celebrate the snow. When it's hot and summery outside, a lot of us are outside camping, fishing, hiking, or engaging in other outdoor activities – and sipping on local beers is part of that tradition as well! We will have links to all these on our website, to encourage you to try out some new beverages for yourself!
Genre Suggestions
We have a huge diversity of cultures and languages in Minnesota. There are a lot of Scandinavian descendants, as well as German descendants. And we have several Indian tribes across the state including Chippewa, Ojibwe, Lower Sioux, and Ojibwa or Anishinaabe. We have many groups of cultures who have moved here in the last fifty years, including strong populations of Vietnamese, Hmong, and Somali people.
We live in big cities, and small rural areas. We have deciduous trees and forests filled with pine trees. We root for the Vikings and the Wild. We have a pretty impressive great lake: Lake Superior; and to back that up we are known as the Land of 10,000 Lakes – but that doesn't cover our whole range of lakes. We have waterfalls and historic sites. In short, we are a land filled with a diverse set of people and natural settings – and the literature of Minnesota is likewise exciting and diverse, and is filled with different kinds of settings, people, and genres!
We love Minnesota books, and are collecting them on our website. Each week we publish a review of a book set in Minnesota in our series: CMLE Reads Across MN. We also have a google map where we locate each of these books, so you can see how geographically diverse our state – and our books – are to read! We link to this series so you can check it out yourself.
Podcast: Play in new window | Download