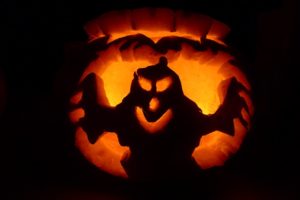 READY TO WIN?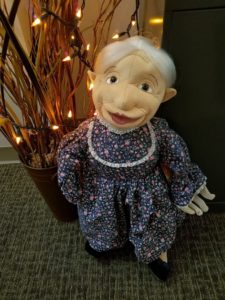 We will picking a random commenter to win the scariest puppet we've ever seen! Her name-tag says she's Sven's Grandma, but clearly in some terrifying dimension! It will be perfect for some puppet fan, or for a collection of puppets in a library. (A scary library!)
This week we are sitting in a dimly lit room room, with monsters covering our walls, orange lights, and jack lanterns all over the place. We are ready to enjoy some good thrills and chills – so we are glad you are here with us. If you feel someone grab your hand, that's probably just us being scared. Probably.
Check out our full information page here to get links to all our books, and the beverages we share!
You can find all kinds of horror stories out there. Some of them are on the front pages of newspapers, but we want to talk about the fictional kind of horror this week. True crime has been a popular genre (Helter Skelter is a good one; Stranger Beside Me started Ann Rule's career) – scary, but too scary to discuss today.
These books are the ones that you might not be able to stop reading at bedtime – but you spend the rest of the night hearing every weird knock and rattle. Was that an eerie footstep? Tell yourself it probably wasn't, and let's talk about scary books!
One thing I find about horror books, as I review my favorites, is that they are really dependent on the situation I'm in while I'm reading them. Some books seemed extra scary because I was in the right place, or situation, or frame of mind. So not everything we discuss here is strictly "horror" books – but as with all of our genres and chats, it's what you think it is. So if a book was scary to you, or has the potential to be scary: that's horror.
There can be horror elements to all kinds of books, including mystery, literary fiction, and Western.
Podcast: Play in new window | Download